March is your last opportunity
March is the last month before the swimming pool season starts. To get early bird specials and great financing on the swimming pool of your dream you have to get started NOW. The pros are getting ramped up for the season and they are ready now to give you the best swimming pool deals.
Pool Financing is available
Call: 1-800-254-9560, Ext. 5
Email: info@yourpoolloan.com
Fax: 1-800-254-9560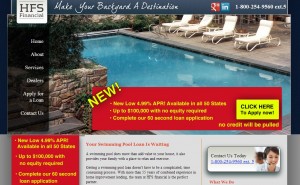 Our financing partner, YourPoolLoan.com is committed to get you the best financing whatever your situation. Get started now with free pool quotes and information.