Arizona Swimming Pools
Getting a swimming pool in Arizona is a popular thing to do.  Some reports say that the Phoenix metro area is the fastest growing swimming pool market in the country.  Arizona is one of the hottest states in the Country and also one of the States where a beautiful residential swimming pool is most appreciated.  With average summer temperatures over 100 degrees for most of the State, a backyard swimming pool is the perfect backyard summer retreat.  Also the swimming season in parts of Arizona like Phoenix and Tucson is almost all year around.
As an investment, a backyard residential swimming pool in Phoenix or any part of Arizona is a  good opportunity.  Homes with swimming pools in Arizona have more appeal for both home buyers and renters.  A swimming pool adds value to your home and you get to go swimming right in your backyard.  Concrete pools are the most popular type of swimming pools in Arizona.   Popular swimming pool features include a cool deck.  A cool deck is a water feature that adds a gentle mist to the air and help to keep your pool area cool.  Other popular features include attached hot tubs, waterfalls, rock features, like a waterfall rock wall, slides, fire pit and outdoor kitchens for those long, cool nights.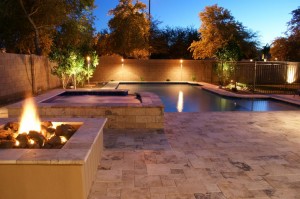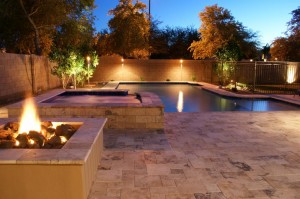 Arizona has a lot of pool builders.  This works out good for the pool customer.  There are lots of options and the competition keeps the price low and the value high.  Also because there is so much construction in the Phoenix metro area, there are a lot of pool installers available all year long as well as materials to build the pool.
Probably the most popular style of swimming pool in Arizona is a kidney shape or free form pool.  Beach entry pools are also popular to create an oasis feel in the middle of the desert.