Swimming pool types
The three major types of in ground swimming pools are concrete, vinyl and fiberglass. You can have almost any features with any type of pool.  Most shapes and sizes are also available in any pool type.
There are some differences with the pool types. The ideal pool type for you will depend on your vision for your backyard and your research. Below is a brief description of the pool types and recommendations for next steps.
Concrete pools
Concrete pools are one of the most popular types of swimming pools.
While most swimming pool types are flexible, concrete or gunite swimming pools are generally the most flexible when it comes to shapes, depths, designs and extras. For example a beach entry pool is not really possible with a vinyl pool but is very possible with a concrete pool.
Concrete pools are generally constructed with metal rebar.
Rebar is a type of metal that is shaped, connected and placed in the excavated swimming pool site.
Once the rebar is in place gunite or shotcrete is applied over the rebar. Gunite and shotcrete are both types of concrete.  the difference is the mix and the application process.
After the shotcrete or gunite is applied, a finish is placed over the concrete surface.  Concrete swimming pool finishes come in many styles, types and colors.  One of the most popular finished is pebble finish.
It usually takes about 7 to 10 working days to complete a basic concrete swimming pool.  After your pool is complete the largest maintenance issue that is unique to concrete pools is resurfacing.  depending on your chemical usage and how well you take care of your pool a concrete finish should last 10 years.
Concrete pools are not always the most expensive option.  The price of your swimming pool depends on many factors outside of the material that is used to construct a pool.  The best way to make sure that you get the right swimming pool for you is to research all three major pool types for yourself before making a selection.
Vinyl swimming pool
Vinyl swimming pools are typically shipped to the pool location in pieces and assembled on site. Vinyl swimming pools are the most popular types of pool is some parts of the country.  They have a reputation for being the least expensive swimming pools to install which may or may not be the case.  The price of a pool is wrapped up in more then the just the type of pool. Sometime a fiberglass pool or a concrete pool could be less expensive to install.
Vinyl pool shapes
Vinyl pools come in many shapes and sizes.  Some of the most popular vinyl pool shapes are the rectangle, L shaped, Grecian, kidney and free form.
Once the pool site is prepared, the vinyl liner pool will be delivered to the pool site and be ready for installation.  Typically the vinyl liner pool walls are constructed of steel ore reinforced plastics.  The wall sections are installed and connected.
steel vinyl liner pool walls being installed
After the walls are connected the bottom of the pool is installed typically with a concrete material.  After the walls and bottom are complete, the vinyl liner is installed over the entire pool surface.  Vinyl liners come in many shapes and sizes.  Most vinyl liners made today are durable and meant to last.  Eventually you will probably have to install another liner but that may be 10 years down the road.
Vinyl pools can usually be installed in a week or two.  The best pool for you might be a vinyl liner pool.  To be sure, you should check out all the of the major types of in ground swimming pools before you settle on one type.
Fiberglass swimming pool
Fiberglass swimming pools come in many shapes and sizes.  for the right situation a fiberglass pool may be your best option.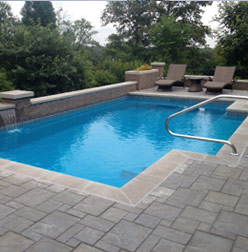 Fiberglass pools are one piece swimming pools.  They are molded in a factory and come in most popular swimming pool shapes. Some of the most popular fiberglass swimming pool shapes are kidney swimming pool, square, rectangle, l shaped and Grecian.
Once the pool are is prepared, the fiberglass pool is delivered on site by a truck and hoisted into position. After the pool is placed in the site. the pool deck is installed and the plumbing and electric is hooked up.  Fiberglass pools take 7 days to 10 days on average to install.  Modern fiberglass pools are durable and many come with warranties.  depending on the details of you swimming pool project, a fiberglass pool may be the best option for you.  The best thing to do is to start by comparing pool types for yourself.