Fiberglass swimming pool
Fiberglass swimming pools come in many shapes and sizes.  for the right situation a fiberglass pool may be your best option.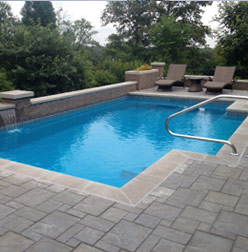 Fiberglass pools are one piece swimming pools.  They are molded in a factory and come in most popular swimming pool shapes. Some of the most popular fiberglass swimming pool shapes are kidney swimming pool, square, rectangle, l shaped and Grecian.
Once the pool are is prepared, the fiberglass pool is delivered on site by a truck and hoisted into position.
After the pool is placed in the site. the pool deck is installed and the plumbing and electric is hooked up.  Fiberglass pools take 7 days to 10 days on average to install.  Modern fiberglass pools are durable and many come with warranties.  depending on the details of you swimming pool project, a fiberglass pool may be the best option for you.  The best thing to do is to start by comparing pool types for yourself.